Aircraft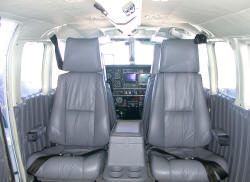 Our Piper Seneca, in additional to the standard communication and navigation equipment, is equipped for flight in all weather conditions, with the newest GPS WAAS technology, allowing for ILS precision to many small runways previously unavailable during inclement weather conditions. With realtime weather radar and satellite supplied weather, we can make realistic and accurate decisions.
To further enhance safety, our Seneca is equipped with TIS, Traffic Advisory Service, which allows our pilot to view the location of and avoid other aircraft in the vicinity.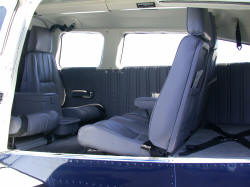 When flying in mountainous areas of New England or the Southwest, the onboard terrain awareness feature provides our pilot with mountain areas or man made obstacles that may potentially be of concern to the safety of the flight.
Meticulously maintained to the FAAs highest standards, (FAR Part 135), all maintenance is overseen by company founder and FAA licensed maintenance inspector, Martin Goldfarb.
Flying Exclusively, Twin Engine, Executive Aircraft
Piston Twins